Global Leaders Forum
CCD's Global Leaders Forum brings world leaders to UC San Diego to share insights on current trends in global policy and politics, leadership and life lessons. The forum enriches the diplomacy dialogue at GPS and the wider San Diego community, and, most of all, is an essential learning experience for the next generation of world leaders being educated at the School of Global Policy and Strategy.
Events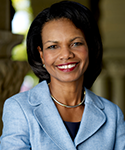 CCD Global Leaders Forum: Dr. Condoleezza Rice
Sept. 13, 2019 | View Photos
The forum's inaugural event featured former Secretary of State, Dr. Condoleezza Rice who discussed her new book, "To Build a Better World," co-authored with Philip Zelikow, and shared insights about life as the nation's top diplomat.